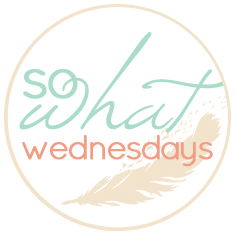 It's been a while. This week, I am saying SO WHAT! if...
This feels like the longest week on the planet. Also, it's the first day of spring and there is a high of 32 today. New England, you're grating on me.
You're going to Blissdom. Some people are like, oh cool I'm going to Blissdom! You're fine...others are like eating, breathing, and farting Blissdom. It's a blog conference. You aren't curing cancer. I don't give a f what you're wearing to it or that you're buying your "Blissdom roomie!" a $60+ gift. Like, do people just have money to burn in piles in their backyards?
Reader is going away. I'm actually pretty sad about this because so far, I really don't like Bloglovin. I like how easy Reader was and didn't need to open new tabs for each post. Maybe I'm just not using Bloglovin right? People are also complaining about losing followers with it. Does it really matter that the number stays the same? People will still read even without an RSS feed.
I just sat in gridlock traffic for over an hour and a half. I'm a little testy this morning.
We have no plans this weekend and I could literally cry with joy over that. Except maybe we'll finally paint Carl's office. Maybe.
I am very excited about having a girl's night on Friday. So very, very needed.
I finally asked Carl to show me how to make his favorite martini. I pretty much have one ready every evening for him. It's very Mad Men and I love it. I also love and believe in ironing my man's shirts. Every Simmons feminazi probably wants to punch me in the babymaker for saying that, but to each his own. I like deliberate gender roles. And hoops skirts.
The Topsy episode of Bob's Burgers will forever hold a place in my heart. I can't stop singing Electric Love.
We are officially into double digits in terms of days till the wedding - 99 days till I do!
What are you saying SO WHAT! to this week?
Head over
and link-up!